This global Antibiotic Awareness Week (14-20 November 2016), more and more people are being urged to understand that antibiotic resistance is happening here and now, with increased rates of resistance being reported to many commonly-used antibiotics. Especially for prostatitis patients who are previously use common antibiotics treatment, are searching new prostatitis chronic treatment, with no side effects.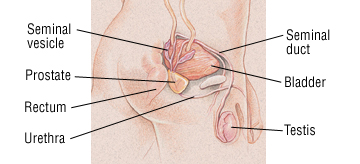 Prostatitis ranges from a straightforward clinical entity in its acute form to a complex, debilitating condition when chronic. Diagnosis of acute and chronic bacterial prostatitis is primarily based on history, physical examination, urine culture, and urine-specimen testing. Patients with acute prostatitis complain of symptoms associated with lower urinary tract infection, such as frequency and dysuria. They may also experience lower urinary-tract obstruction due to prostatic edema. Therefore, the differential diagnosis of prostatitis includes (amongst others): acute cystitis, benign prostatic hyperplasia, urinary-tract stones, and bladder cancer. On physical examination, patients may have a high temperature and lower abdominal or suprapubic discomfort due to bladder infection. The rectal examination shows an exquisitely tender prostate on palpation, but a normal rectal examination cannot exclude this diagnosis.
What is the best prostatitis chronic treatment? Prostatitis in a man is considered to be a complicated prostatitis because the prostate is often involved. However, in general, men with a bacterial prostatitis can be separated into different types, each with its own therapy. Young men with a prostatitis without systemic symptoms where the patient's medical history and physical examination show do not suggest a causative factor. Men with a urinary-tract obstruction and systemic symptoms or with a medical history and physical examination suggest a causative factor. These lower urinary tract infections must be considered complicated lower urinary tract infections. The systemic symptoms indicate invasion of the tissue in the prostate (acute bacterial prostatitis) or the kidney. Men with complaints fit a chronic bacterial prostatitis. In these cases, it is advised to wait for the results of the culture. For men with a chronic bacterial prostatitis, a fluoroquinolone is recommended as first choice because these drugs are more effective than trimethoprim/sulfamethoxazole. Since it is not an acute illness, the results of the culture (urine, if necessary, after massage of the prostate or semen) can be awaited before therapy is initiated.
In fact, these uncomplicated prostate diseases can be cured by probably method. What patients concern is the efficacy? Although antibiotics could achieve good effect in shor time, the disease symptoms will always easily to relapse. Many patients give up the western therapies to choice to Traditional Chinese Medicine (TCM). For the treatment of Prostatitis, they find that Diuretic and Anti-inflammatory Pill is often recommended. Actually, this herbal medicine produces a better prostatitis chronic treatment.