Hydrosalpinx is the fluid collection within the fallopian tube and usually is accompanied by closure of the distal (far) end of the tube. Hydrosalpinx is a specific type of fallopian tube blockage. According to medical data, 10% to 30% of women with tubal infertility suffer from hydrosalpinx. Fallopian tube is pathway for sperm and egg to meet, once the fallopian tube is blocked, infertility may result.What are the causes of hydrosalpinx? How to treat hydrosalpinx? Is there any hydrosalpinx treatment without surgery?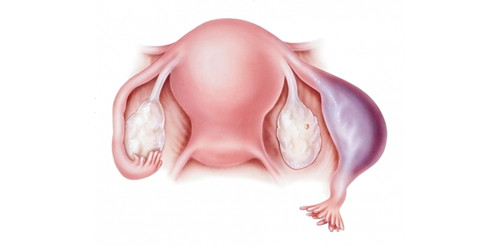 What are the causes of hydrosalpinx?
When a blocked fallopian tube is filled with fluid, this is called hydrosalpinx. And hydrosalpinges are used when patients' both fallopian tubes are infected and filled with fluids.
1.Hydrosalpinx can be caused by long-term infection of the fallopian tube. This long-term infection may occur due to a sexually transmitted disease such as chlamydia infection, a ruptured appendix, pelvic inflammatory disease, and any other infection that may affect the reproductive system or nearby organs.
2.Adhesions (scar tissue) also can cause hydrosalpinx.
3.Hydrosalpinx may also be caused if endometrial deposits (from endometriosis) irritate the fallopian tubes.
If only one tube is infected and the other is healthy, you still can get pregnant. Technically speaking, it is possible to get pregnant with just one open fallopian tube. But, the delicate environment of the uterus may be affected after the hydrasalpinx, which can reduce pregnancy rates. Also, fluid might leak into the uterus and affect the embryo implantation.
What is the treatment for hydrosalpinx ?
The most common treatment for hydrosalpinx is surgery. Depending on the causes of the hydrosalpinx, surgery may be involved removal of adhesions or endometrial growths. If your condition is severe, your uterus may be removed completely. If you have desires to get pregnant, hysterectomy is not recommended.
Many patients choose IVF treatment, in fact, the pregnancy and live birth rate is lower than it is expected. The cost of IVF is relatively high. And many specialists suggest that before IVF treatment, patents need to receive surgical removal of the hydrosalpinx.If your hydrosalpinx is related with PID, you also may receive antibiotics.
Is there any hydrosalpinx treatment without surgery? The answer is yes. Traditional Chinese Medicine Fuyan Pill has prominent effect on treating hydrosalpinx and can treat hydrosalpinx without surgery. Fuyan pill can kill bacteria and eliminate inflammation and it also can improve the delicate environment of reproductive system. The effectiveness of fuyan pill has been proven by many cases.